Lawrenceville School graduation, June 1900
Getting ready for Lville reunion weekend, I was poking at some archives refreshing myself. I put together the serendipity of a clip from 1900.
Remember that Teddy Roosevelt's path to the White House had a crescendo in June 1900 when he entered the Hotel Walton at Broad & Locust to great fanfare. TR arrived the evening of June 18.
The next day approximately 40 miles away, a friend of TR, Colonel John J. McCook, was giving the commencement speech at Lawrenceville.
Next day the Philadelphia Inquirer had a special report quoting the address:
Why does the great Republican Convention in Philadelphia to-day want Rough Rider Roosevelt for the Vice Presidency but for this very reason? We need more rough riders who have the knack of keeping their balance; men who can spur ahead when the occasion demands and effect the potentialities of the moment.
Here's the clip (page 4, June 20 1900).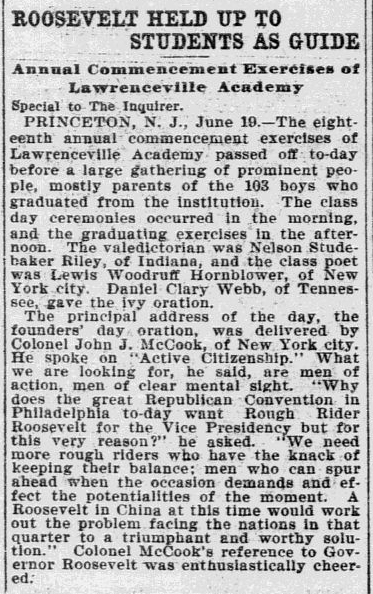 Your ad blocker is on.
Read ad free.
Sign up for our e-mail newsletter:

OR
The team at Vox Media deserves all the snaps for its work on Chorus, the once-mythical "unicorn" content management system that does just about everything a digital publisher could want.
In a thread begun October 2016, Washington Post technology director Aram Zucker-Scharff tweeted about the shady advertising practices of EverQuote, a Boston-based startup. Since then these ads have become prolific on the web (and nearly as prolific are Aram's tweets documenting the malfeasance).