The F.F.V.
I've been getting into railroad-themed folk music recently, a robust and surprisingly influential sub-genre that sprang up in the late 19th/early 20th century. These folk songs tend to reject direct authorship; rather, they emerge, seemingly popping into existence with early recordings that vary dramatically in specific verbiage and intonation.
Major themes in the sub-genre include hobos and wrecks, and the latter characterizes one song I've grown to love in particular: The FFV, although you may know it by one of its many other names: Georgie Collins, The Wreck of the C&O, Engine 143, and The Wreck of the FF & V.
The lyrics are based on a real life wreck of C&O's Number 4 train on October 23, 1890 (it not being unusual at the time for songs to convey news). Engineer George Alley struck a rock that caused a landslide near Don, Virginia.
The song was first recorded in 1924, but the most famous rendition is the Carter Family's 1929 recording, in which they first transposed the actual Engine 134 into Engine 143 (assumedly out of cadence concerns).
There is an apocryphal story that when Carter family scion first met his later wife, Sarah, she was singing with the autoharp "Engine 143". He was coming around her home selling fruits and she was just 16 years old then. Soon Carter would marry the woman and the rest is history.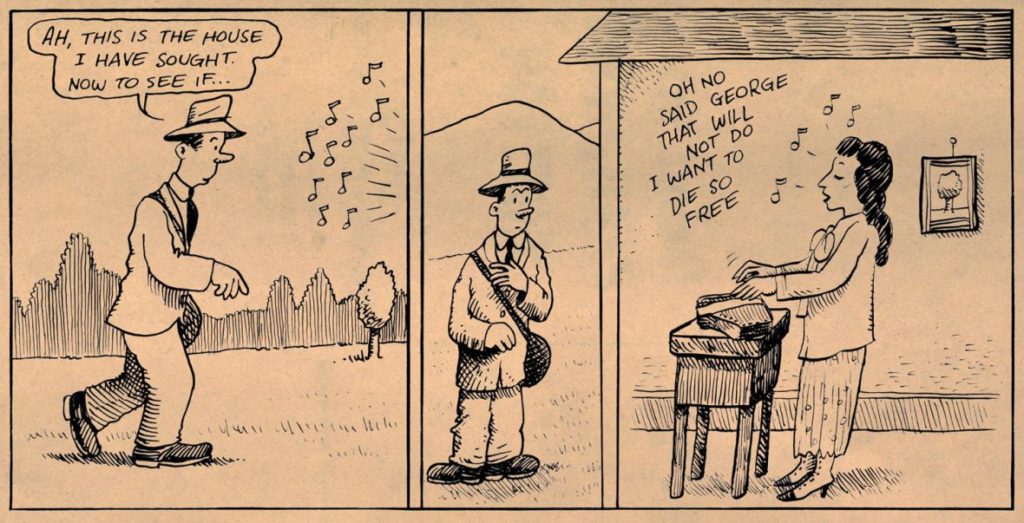 On Fresh Air in 2015, bluegrass musician Norman Blake sang a few bars for the indomitable Terry Gross while talking about how important train songs were to his own musical development:
GROSS: All right. You do a lot of stories songs in your repertoire (laughter). So why did you choose that song? What does it mean to you?

BLAKE: Well, that's one I've heard all of my life, "The Wreck On The C&O Road" is the name of it. It's been recorded in I think some 70 or 80 times over the years since the 1920s by various recording artists. "The Wreck On The C&O" – the Carter Family did it under the title "Engine One-Forty-Three" in a different timing. They did it in 3/4 time, and – but it's about the same train, the FFV – the Fast Flying Vestibule that ran on the C&O road up in Virginia and West Virginia.
Great context – there's something earthy, grounding about listening to the same music that so many of our ancestors did.
I've been listening on repeat to a version included in the Smithsonian's album of classic Railroad Songs, recorded by Doc Watson's mother, Annie.
There aren't many pictures or recordings of Annie, but here's a sample recorded in 1969 when Annie Watson was 74.
This recording by her was much earlier though.
I just love the tune and she carries it mightily a cappella. To my knowledge, her lyrics are unique and I wanted to transcribe them for myself – I want the words to soak in so my own rendition isn't quite so grasping.
The F.F.V.
As sung by Annie Watson
O' yond'r comes old FFV, the fastest on the line,
Speeding o'er the C&O, just 20 minutes behind time,
Speeding o'er the C&O, which quartered on the line,
Receiving strict orders from the station just behind.
And when she came to Hampton, the engineer was there.
His name was Georg-ie Alla, oh with his curly hair,
His foreman was Jack Dixon, a-standing by his side,
Waiting for strict orders with him the cab to ride.
Georgie's mother came to him with a bucket on her arm,
Saying "George, my darling son, be careful how you run,
For many a–man has lost his life while trying to make lost time,
And if you run your engine right, you'll get there's just on time."
George said, "Dear mother, your advice I'll take heed,
I think my engine she's alright and I know that she will speed,
And over this road I mean to go, a speed unknown to all,
And when I blow at the Big Bend Tunnel, I'm sure, they'll hear my call."
George said to the foreman, "Jack, a little more extra steam.
I"m going to run ol' number four the fastest she's ever been seen,
And o'er this road I mean to go the speed of a cannonball.
And when I blow at the Big Bend Tunnel, I'm sure, they'll hear my call."
"And from this engine you must leap, your darling life to save.
I want you to be an engineer when I'm sleeping in the grave."
"No, no," said Jack, "I want to die so free.
I want to die on the engine I love – one hundred and forty-three."
When from his engine Jack did leap, the river was foaming high;
Said, "I'm glad I were on ol' C&O when I had to die."
On up the road she darted, against the rocks she crushed.
Topside down of the engine, poor Georgie's breast did crush.
His head went against the firebox door; the flames were rolling high.
Said, "I'm glad I were on the old C&O, when I had to die."
The doctor said to Georgie, my darling boy, lie still.
Your life may be saed if it's God's heavenly will.
"No, no," said George, "I want to die so free.
I want to die on the engine I love, one hundred and forty-three."
His mother came to him saying, "George, what have you done?"
"Too late, too late, dear mother, my doom in hell is done,
And if I had a local train, the truth to you I'll tell:
I'd run her into Clifton Ford or drop her into hell."
His face was covered with blood; his eyes you could note see.
And the last word dear Georgie said was, "Nearer, my God, to thee."
Your ad blocker is on.
Read ad free.
Sign up for our e-mail newsletter:

OR
Here is a copy of my presentation and prepared remarks from WordCamp for Publishers 2019 in Columbus.