The unfulfilled promise of UGC
Most generations think they came of age in exceptional times. Can't we all be right?
For me, it was MetaFilter and forums and prep school Facebook collapsing into Obama, '08, hope/change, blogs!, Google Reader, Gawker, Twitter, media, mojos, and beyond. That liminal period between the early web and the consumer social web had me feeling like we could change the world. New media and democracy felt like the perfect pair, and that if only we tapped the crowd we would be able to solve the world's problems and quell the world's turbulence.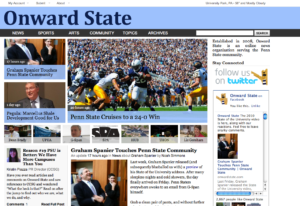 I loved UGC. Check out how we featured columns from regular students in the left sidebar of an early Onward State site.
"Community content" was not our most popular feature, but it was somewhat an ethical statement. We weren't gatekeepers; as much as we resembled a kinda "better" print publication online, we rejected the foundational myth that our competitors embraced: That journalism was a special craft, that regular people couldn't do it.
Even Onward State writers were said to commit acts of journalism, not be journalists themselves. This lack of professionalism (or at least experience) led to embarrassing public incidents, most notably misreporting the death of Joe Paterno, and rather than a post-modern "we're all just people" collective the staff now resembles more of a traditional news, features, sports trifecta.
Simultaneous to my own professional foibles, social media eclipsed even our wildest imaginations. I graduated as Facebook was going public. How about that mobile revenue, am I right? The white whale of so many an entrepreneur and Facebook is killing it, still, to this day.
The crowd continued talking to itself, but the atmosphere changed in a way that feels almost silly to describe. The indy web, the pre-revenue web – it was something different. Even YouTube back then felt more raw, more real, less aware. Please, hit me in the comments if you think I'm full of shit. This is probably contemporal narcissism, attributing more meaning than is due to the period…
But what if I'm not full of shit? What if the indy web was different? What if our conversations had more meaning before they were sorted by the algorithm & monitored by umpteen data mining services?
The Tow Center released a research project this week about the decade long relationship between platforms and publishers. It doesn't make me feel great. Where are the people and the small and medium businesses? Where's Lebanon, my hometown? Or State College, an adopted one. Or Philly, where I live now? The consumer social media products have been "great" in reach but I'm worried about their impact.
I'm in a number of local/neighborhood Facebook groups, they are fine and different from Nextdoor. I'm concerned that these communities are the best spaces we have right now for civil discourse, for the community to talk to itself. Like any commons, merchants and hawkers come first, promoting whatever they happen to be selling at the moment…
In my pipe dream, journalists are sitting there in the feed, helping moderate the conversation and posting original articles to contribute. Maybe members of the crowd can event work their way into the reportorial ranks by submitting enough freelance articles compensated at nominal rates. The Huffington Post (now owned by Verizon!) tried this in 2007.
At the least, the crowd-based opinion section seems like a natural evolution of the traditional columnist role, where a single person is paid a large salary to come up with their own opinions each week. At one point, I thought this future was inevitable. And yet…
I'm not sure what happened. I think a significant factor was the iPhone camera & its competitors. Once most folks had a high res camera on them, broadcast had a reason to get involve (e.g. iReport) and the scrum for breaking news social media content became intense and financial. Facebook also changed how we thought about connecting online, although I don't claim to understand exactly how.
I thought that better information flow would lead to better decisions as communities – something like the free market theory of user-generated information. It seems like this hypothesis fell flat at some point and I'm very interested in when/where other people think that may have happened.
Your ad blocker is on.
Read ad free.
Sign up for our e-mail newsletter:

OR
Here is a copy of my presentation and prepared remarks from WordCamp for Publishers 2019 in Columbus.