Philly.com paywall example of reduced ad load
Documenting the rollout so I have notes for the future.
Here's what the reduced homepage ad load looks like above the fold.
Note that the key difference in ad load is the additional graphic container around the the stem cell therapy banner. There did not seem to be significant variation in number of requests or total website weight between the paid and free version.
Philly.com may also be feeling (at least, should be feeling) pressure to adopt SSL/HTTPs, as you can see Chrome nags in the console currently,
This page includes a password or credit card input in a non-secure context. A warning has been added to the URL bar. For more information, see https://goo.gl/zmWq3m.
This security warning will be more prominent in future releases of Chrome.
One more thing: The logo. I could write a whole post on the Kremlinology of the logo change. Philly.com used to be on top, in fact it was the only logo at one point. You can see more mocks on designer Anthony Pino's site.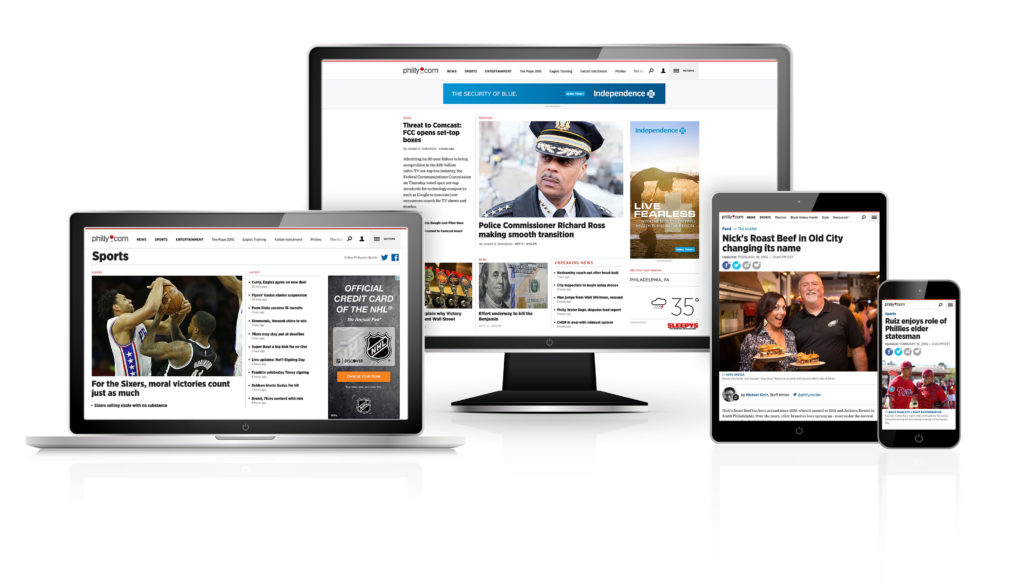 Here was an interim state where links were added to the paper "landing pages"…

No more…

The Inquirer. Best to read it every day.
Your ad blocker is on.
Read ad free.
Sign up for our e-mail newsletter:

OR
The team at Vox Media deserves all the snaps for its work on Chorus, the once-mythical "unicorn" content management system that does just about everything a digital publisher could want.
In a thread begun October 2016, Washington Post technology director Aram Zucker-Scharff tweeted about the shady advertising practices of EverQuote, a Boston-based startup. Since then these ads have become prolific on the web (and nearly as prolific are Aram's tweets documenting the malfeasance).