Setting up PagePark to corral my unused domains
Like many of you, I've got a bad habit of buying domain names with a loose plan to use them in the future. Highlights from my NameCheap account:
big10date.com
billypen.com
popularhistory.co
nostalgicphilly.com
getphillynow.com
hackpa.com
nostalgicphilly.com
notphilly.com
pennstatefightscancer.com
progressivephilly.com
prophilly.com
Dave Winer had told me about his project PagePark recently, and it seemed like a good fit for my unused pile of domains. As Dave describes the tool, "Think of it as a nice park where you keep your pages."
For hosting this park of pages, I ended up using AWS Elastic Beanstalk for the first time. I thought about using the ec2 micro that handles docker containers for a couple other apps, but vanilla ec2 micros aren't supported with DeployBot as well as Beanstalk applications. (DeployBot is a Philly-based deployment services that I started using recently, after we switched to it at Alley for handling our deployments. So far I'm pleased; formerly I had used DeployHQ.com.)
Here are the steps I took.
Private fork (clone) of pagePark – just want the option to keep secrets in there.
Followed the readme
Updated gitignore so I'm not version-controlling stats or node_modules.
Changed the port to 8081, the default for Node apps on Beanstalk
Added my first domain folder and a minimal index.html
Pointed the domain to Beanstalk server using CNAME entries
Deployed for the first time
My goal is to reduce the number of steps it takes me to spinup a new site/domain. Here's what the update/deployment process will be now.
Purchase domain
Point CNAME at Beanstalk server
Add folder to repository
Commit changes
Here's what my domain folder looks like currently.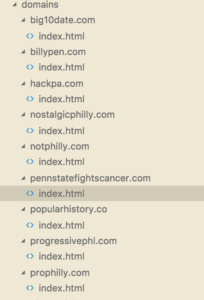 Dave is also working on Public Folder, which is a related project and more consumer friendly than pagePark. But if you're like me and like to tinker with things, that extra bit of effort up front can be totally worth it. Compared to hosting on Github or S3, pagePark allows other JS scripts to be used for rendering sites, I think that'll come in handy someday.
Sorry that this post is more technical than usual but I wanted to share what I did in case other devs find it valuable.
Your ad blocker is on.
Read ad free.
Sign up for our e-mail newsletter:

OR
Here is a copy of my presentation and prepared remarks from WordCamp for Publishers 2019 in Columbus.