The next few years in newspaperland
Check out this post by Local Media Association President Nancy Lane on The Big Disconnect in Local Media. She bulletpoints a number of hurdles that most local media publishers face as the print/digital revenue crossover rapidly approaches. Namely wavering digital strategies and lack of sales talent/operational competence.
Some things are happening in newspaperland that I want to bring to your attention.
The first is that print subscription revenue has shown itself to be relatively stable/sluggish in responding to price increases. On the other handle single copy sales seem to be declining at a faster rater than we've seen in the past few years (based on a couple OTR convos). See also NYT Q4 earnings.
Digital subscriptions are great but it's a race against the clock for the big metros to rack up the 1-3% total conversion rate they'll need to sustain newsrooms close to present size.
If a recession were to occur in the next few years it could undermine the financial planning underlying this transition. Especially around print trends in circ and advertising. Consider the New York Times growth projections: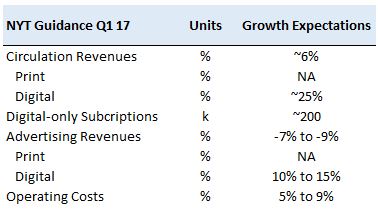 These growth expectations can be used to help estimate when the crossover will actually happen. From ReCode last spring: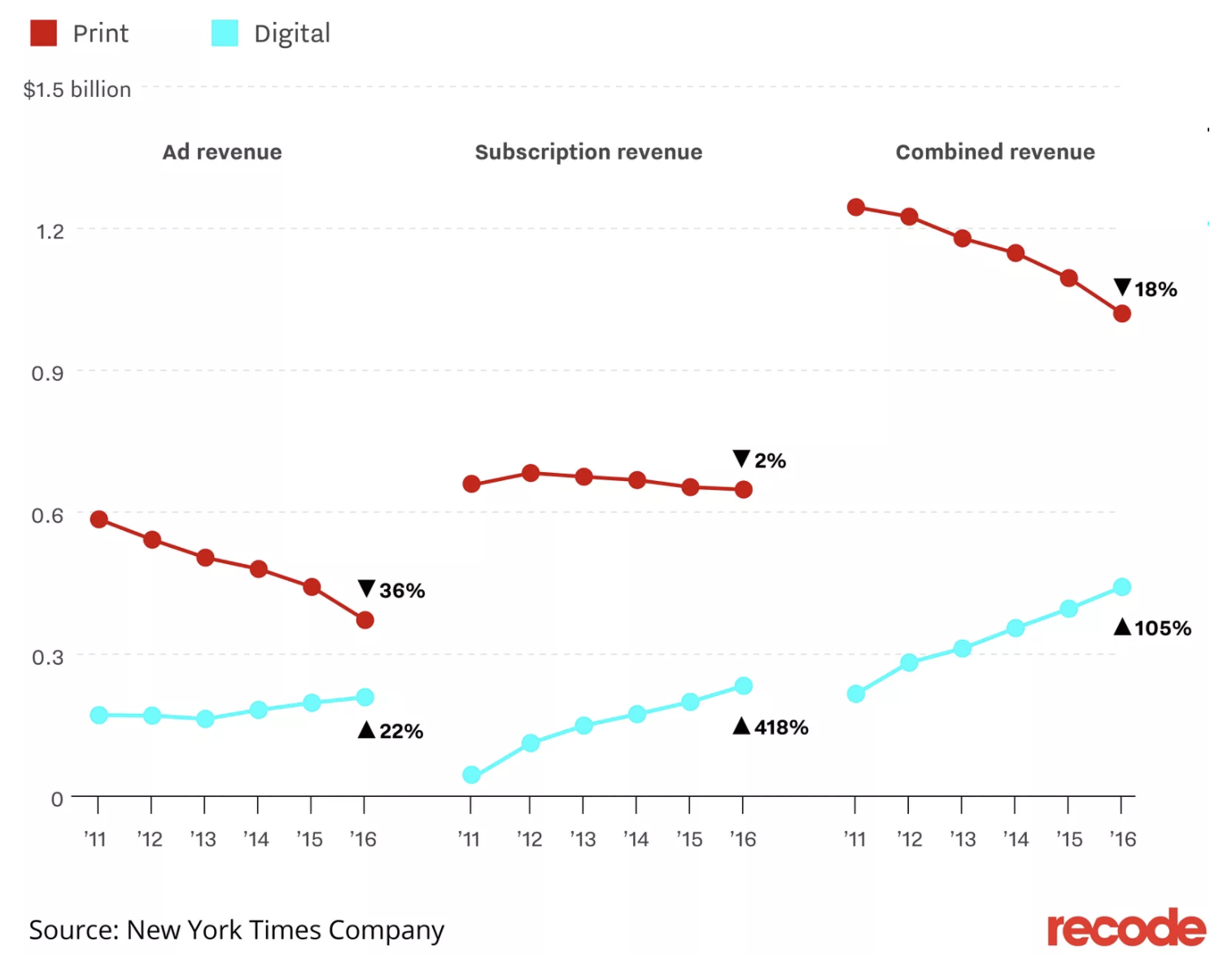 Keep in mind (and this is so important): Your local newspaper is not the New York Times. And the Washington Post will also be even less representative of the typical newspaper experience as its ARC business line grows. For local success you have to look at the big nonprofits (VOSD, Texas Tribune), a few privately held metros (DMN, Deseret News, Star Tribune), and the for-profit upstarts (ARL Now, Charlotte Agenda, Technical.ly). Personally, I'm putting my chips on the latter group.
(There are also the big newspaper chains. DFM seems to be milking the cash cow to death but Hearst, Gannett, and Gatehouse will continue acquiring outlets with papers that were once prized family possessions & "never" for sale coming onto the market. But short of Hail Mary digital subscription turnaround many of these papers are more valuable as biz dev/audience arbitrage vehicles than for their real original editorial & community value.)
These for-profit digital upstarts don't have access to the same foundation funding and tax-deductible marketing dollars as their nonprofit peers, but they do have the motivation provided by that wondrous force, the invisible hand. It is a Good Thing that local publishers are accountable to the market. A profitable publisher is a trustworthy publisher! It means that not only has he or she managed to build a content operation (with presumedly some amount of capital-J Journalism included) but also established direct sales relationships with local and/or regional businesses. Not to mention, possibly direct membership relationships with readers and other patrons.
Accountability to the market is a good thing and so is making a profit! It's called the news business, and while I'm all for collaboration and open source, at the end of the day we will be measured by our ability to pay good wages & provide career advancement to our teams. I'm totally not into the status quo of local news as a training ground or minor league; I see a future where local editor-publishers see themselves as starting a life journey (or even a 10-20 year journey) to build real value in their communities.
And yes, by real value, ultimately I do think that smart editor-publishers today are seeding the ground for a future nest egg. Something like 1x revenue or 2-3x profit as a back of napkin & conservative estimate for outlet value. You will see some murmuring of audience-based/reach-based valuations in the coming years but ultimately these businesses will be judged by a synthetic eCPM basis – our ability to extract combined membership/advertising revenue from audience on an average basis. I have a suspicion by 2021 we'll see at least one print brand acquired by a digital upstart, a true turning of the tables.
All this to say! I launched my landing page for Philly Publishing this week. This is my next move and I am trying to talk to as many local & niche publishers as possible as I establish my overall value proposition for the "Virtual CTO service".
If you want to start building a digital outlet, definitely get in touch. I'll warn you though, you better be willing to make a sales call
.
Your ad blocker is on.
Read ad free.
Sign up for our e-mail newsletter:

OR
Here is a copy of my presentation and prepared remarks from WordCamp for Publishers 2019 in Columbus.