Shoutout to Elizabeth Cotton
As mentioned previously, I've grown enamored with railroad music over the past couple years. In these songs we find roots of the later folk music movement, which would be popularized later through the zeitgeist of Greenwich Village.
(Sidebar: I need to write about one of my favorite books of this period, a collection of poetry titled The Beat Scene, featuring a few from Ted Joans who is just excellent.)
Anyway, Elizabeth Cotton is the focus of this post. It's black history month and as I was listening this morning, I found this article by Timeline magazine about the woman behind the music. Cotton wrote one of my all-time favorite train songs, Frieght Train. Give it a listen:
The facts:
Cotton was born 1893 in Chapel Hill as Elizabeth Nevills
She picked up banjo at age 7.
She wrote her most famous song, Freight Train, at age 11. Her instrument was a $3.75 Sears and Roebuck guitar purchase with her own money from being a domestic servant. She would do this job for the next four decades.
Her discovery is entirely due to the Seegers. An excerpt from the Smithsonian's Folkways archive:


While working at a department store in Washington, D.C., Libba found and returned a very young and lost Peggy Seeger to her mother, Ruth Crawford Seeger. A month later, Cotten began work in the household of the famous folk-singing Seeger family.

The Seeger home was an amazing place for Libba to have landed entirely by accident. Ruth Crawford Seeger was a noted composer and music teacher while her husband, Charles, pioneered the field of ethnomusicology. A few years passed before Peggy discovered Cotten playing the family's gut-stringed guitar. Libba apologized for playing the instrument without asking, but Peggy was astonished by what she heard. Eventually the Seegers came to know Libba's instrumental virtuosity and the wealth of her repertoire.

In 1958, she recorded her first album.
In 1965, she was featured in the New York Times for her song-playing in the village.
In 1985, she won a Grammy for Best Ethnic or Traditional Folk Recording for the album Elizabeth Cotten — Live.
As she told the Rochester Democrat & Chronicle in 1987, when she took the stage, all she could think to say was: "Thank you, thank you, thank you. If I had my banjo with me, I'd play you a tune."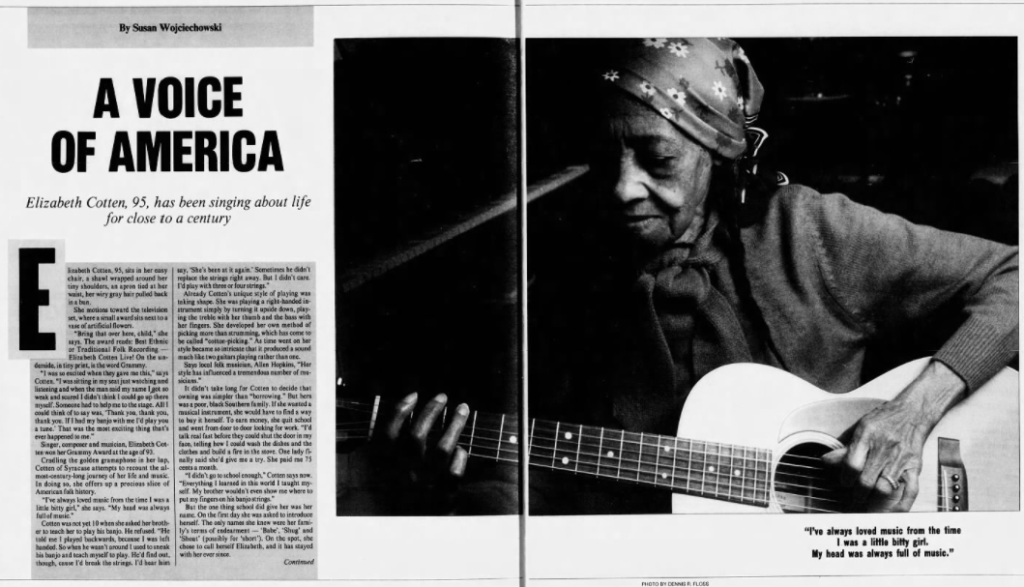 Her story reminds me of Rousseau, of his late entry into art, and how his naivety invigorated the establishment around him. It's important that we take a minute to understand their stories; it helps us place our own paths into context & understand that worldly success often lags behind artistic fulfillment.
And by the way, if you want to listen to some more railroad music, start here:
Your ad blocker is on.
Read ad free.
Sign up for our e-mail newsletter:

OR
Here is a copy of my presentation and prepared remarks from WordCamp for Publishers 2019 in Columbus.